Phyllis Byrd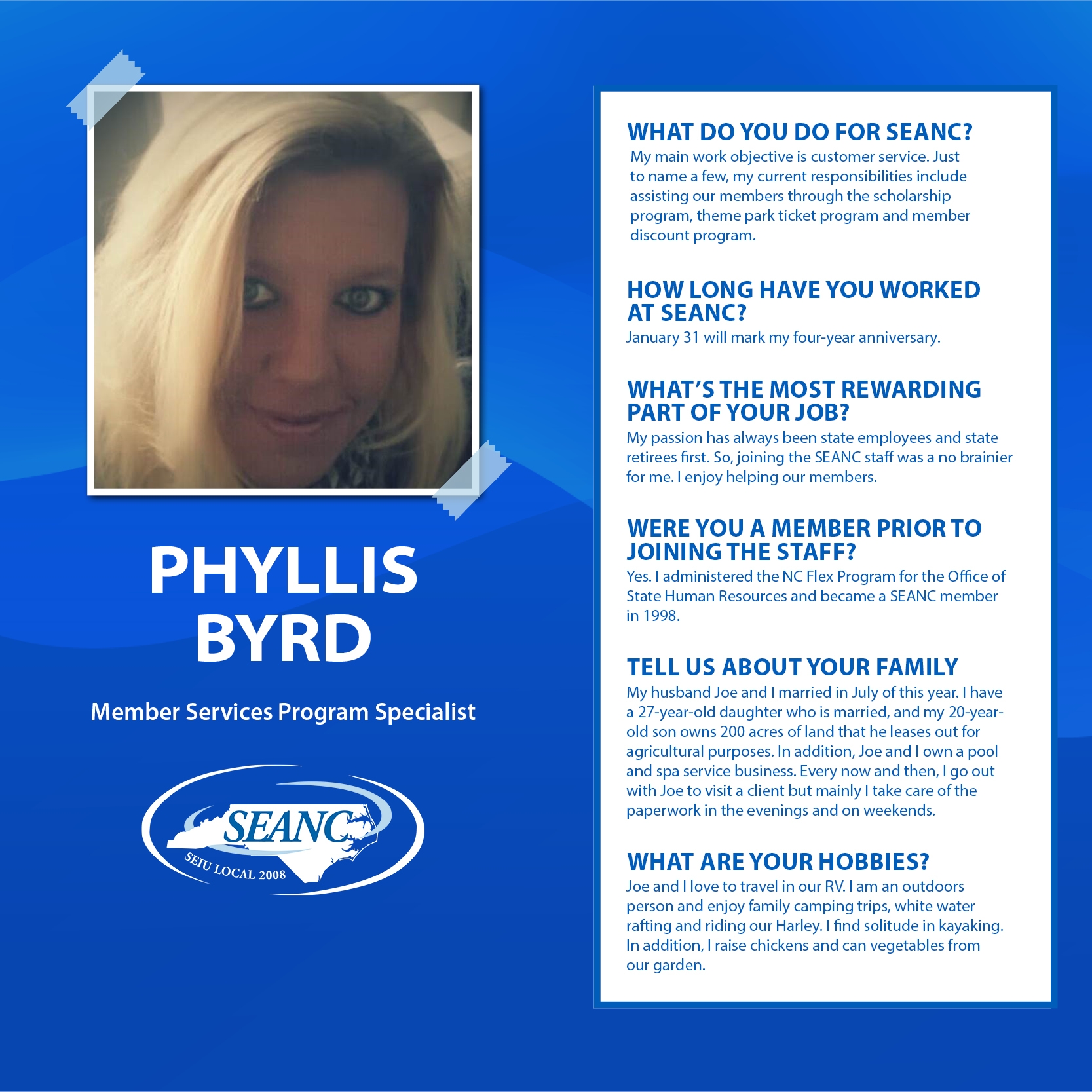 Phyllis Byrd
Member Services Program Specialist
Q1: What do you do for SEANC? My main work objective is customer service. Just to name a few, my current responsibilities include assisting our members through the scholarship program, theme park ticket program and member discount program.
Q2: How long have you worked at SEANC? January 31 will mark my four-year anniversary.
Q3: What's the most rewarding part of your job? My passion has always been state employees and state retirees first. So, joining the SEANC staff was a no brainier for me. I enjoy helping our members.
Q4: Were you a member prior to joining the staff? Yes. I administered the NC Flex Program for the Office of State Human Resources and became a SEANC member in 1998.
Q5: Tell us about your family: My husband Joe and I married in July of this year. I have a 27-year-old daughter who is married, and my 20-year-old son owns 200 acres of land that he leases out for agricultural purposes. In addition, Joe and I own a pool and spa service business. Every now and then, I go out with Joe to visit a client but mainly I take care of the paperwork in the evenings and on weekends.
Q6: What are your hobbies? Joe and I love to travel in our RV. I am an outdoors person and enjoy family camping trips, white water rafting and riding our Harley. I find solitude in kayaking. In addition, I raise chickens and can vegetables from our garden.
Q7: What is an interesting fact about you that people should know? I am an adventurer. When I was 16 years old, I drove by myself from North Carolina to Portland, Oregon to visit my half-sister. And, in my 40's, I flew to California, got a rental car, and drove all over the state by myself. For me and my family, it's God first, family second and work.