Pam Hailey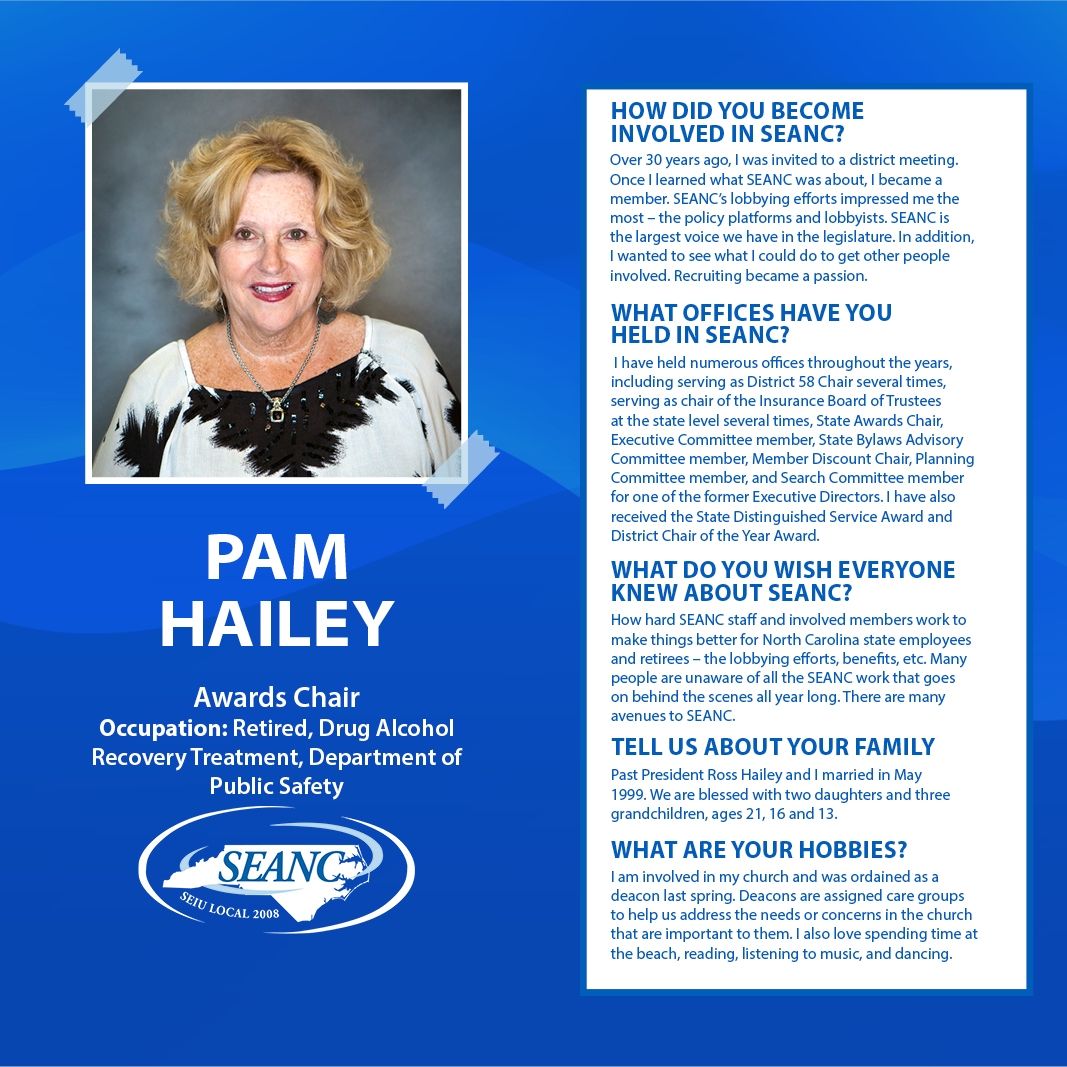 Pam Hailey
District 58 member
Awards Chair
Occupation: Retired, Drug Alcohol Recovery Treatment, Department of Corrections
How did you become involved in SEANC? Over 30 years ago, I was invited to a district meeting. Once I learned what SEANC was about, I became a member. SEANC's lobbying efforts impressed me the most – the policy platforms and lobbyists. SEANC is the largest voice we have in the legislature. In addition, I wanted to see what I could do to get other people involved. Recruiting became a passion.
What offices have you held in SEANC? I have held numerous offices throughout the years, including serving as District 58 Chair several times, serving as chair of the Insurance Board of Trustees at the state level several times, State Awards Chair, Executive Committee member, State Bylaws Advisory Committee member, Member Discount Chair, Planning Committee member, and Search Committee member for one of the former Executive Directors. I have also received the State Distinguished Service Award and District Chair of the Year Award.
What has been the most rewarding part of being active in SEANC? I appreciate all the relationships that I've formed throughout the state. I sometimes wonder how many people I would not know today, if I had not been an involved SEANC member?

What do you wish everyone knew about SEANC? How hard SEANC staff and involved members work to make things better for North Carolina state employees and retirees – the lobbying efforts, benefits, etc. Many people are unaware of all the SEANC work that goes on behind the scenes all year long. There are many avenues to SEANC.
What are your hobbies? I am involved in my church and was ordained as a deacon last spring. Deacons are assigned care groups to help us address the needs or concerns in the church that are important to them. I also love spending time at the beach, reading, listening to music, and dancing.
Tell us about your family: Past President Ross Hailey and I married in May 1999. We are blessed with two daughters and three grandchildren, ages 21, 16 and 13.
What is an interesting fact about you that people should know? I enjoy fishing and hunting.