Surplus should be used for pay raises, COLAs
Feb 10, 2017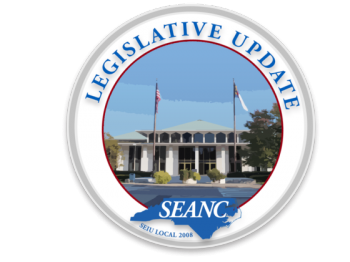 This week wasn't particularly eventful at the General Assembly, though we did see the first signs of coming debate over the state budget.
Budget officials announced Thursday that the state has surplus revenue of $552 million heading into the state budget debate – a larger surplus than it had in the last two years.
It's time to invest in the state's workforce through significant pay raises, and alleviate the strains put on our state retirees who are suffering from the lack of cost-of-living adjustments. Both state employees and retirees have 10-percent less buying power now compared to 2010. While the rest of the state has recovered from the Great Recession, we've been left behind and forgotten.
SEANC's lobbyists will work hard this session to remind legislators of that fact. We hope you, the members, will join in by contacting your legislators and telling them your story.
Better yet, come down to the legislature and tell them yourself. Members from District 2 in and around Asheville left home at 3:30 a.m. on Tuesday to make the trek to Raleigh for two days of lobbying legislators for your pay, health care and retirement benefits.
Watch the video below for more on their visit!
Folwell speaks to SEANC Retiree Council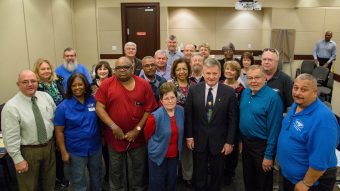 State Treasurer Dale Folwell spoke to the SEANC Retiree Council on Thursday, updating them on changes he has made to the office in the first month of his term. Folwell was endorsed by EMPAC, SEANC's political arm, because of his pledge to cut unnecessary fees paid to Wall Street with retirement funds and his plans to make the State Health Plan more affordable.
In his first month, Folwell has already called many of the firms that manage parts of the retirement fund to start the ball rolling on renegotiating contracts to lower fees. But, he admits, it's an uphill climb.
He is running into similar problems with the State Health Plan, which he said was "on fire" right now, and not in a good way. The unfunded liability associated with retiree health care is a problem that must be addressed. He's also working to alleviate the strain of the high premiums on dependent care coverage.
He said he would keep the council and SEANC updated on both the retirement fund and the State Health Plan throughout his term.