SEANC officers elected at state convention
Sep 12, 2017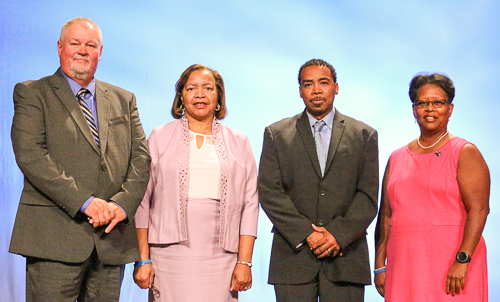 2017-2018 SEANC officers (from left) President Stanley Drewery, First Vice President Darius McLaurin, Second Vice President Jimmy Davis, General Treasurer Chevella Thomas and Immediate Past President Ross Hailey.
GREENSBORO – Delegates at the 34th Annual Convention of the State Employees Association of North Carolina elected officers for 2017-2018 over the weekend in Greensboro.
The officers were sworn in on Saturday. Their terms begin on Oct. 1, 2017. The 2017-18 officers are:
President — Stanley Drewery of District 67 was re-elected to a one-year term. He retired with 30 years of state service with both the Department of Transportation and the Department of Public Safety and was awarded the Order of Long Leaf Pine for his service. He has been a member of SEANC for 35 years. He is a veteran and served seven years in the Army National Guard. He is a Grifton resident.
First Vice President — Darius McLaurin of District 40 was elected to a one-year term. He has been a SEANC member for 12 years and has worked for the state for 24 years. McLaurin currently is the Chief Business Officer at the Governor Morehead School in the Department of Public Instruction. He holds a bachelor's degree from Johnson C. Smith University. He is a Raleigh resident.
Second Vice President — Jimmy Davis of District 4 was elected to a one-year term. Davis is a 28.5-year state employee and 28-year SEANC member. He is a Probation/Parole officer for the Department of Public Safety. He is a Forest City resident.
General Treasurer — Chevella Thomas of District 27 was re-elected to a one-year term. She is retired with 33 years of state service with N.C. Central University's Division of Administration and Finance and is a 32-year SEANC member. She holds bachelors' degrees in accounting and management and a master's degree in information sciences. She resides in Durham.
Ross Hailey of Washington will continue to serve on SEANC's Executive Committee as the Immediate Past President.