MEMBER SPOTLIGHT: Jacque Chatman is a tireless SEANC force
Feb 02, 2021
By BETH DEW

As District 20 Chairwoman, Jacque Chatman "has effectively and with passion, steered the district to growth not only in membership but in every way possible...She provides incentives for coworkers to join SEANC, regardless of the SEANC district they choose…As a true leader, Chatman is admired and respected as a result of her integrity, selflessness, dedication, and ability to motivates others," Past President Cliff Brown.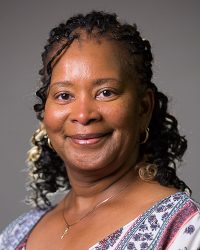 Chatman began her state career in 1988 as a teacher assistant for students with learning disabilities. Chatman says, "During this time, I learned patience, and working with the students prepared me for my future work in the prison system."
Chatman is passionate about teaching/training any age student— youth or adult. Teaching youth, whether in an academic setting or a church setting, gives her an opportunity to have a positive impact on their lives teaching them about right and wrong, not yielding to peer pressure and being a leader and not a follower.
In 1995, Chatman began working as a Correctional Officer at Sandhills Youth Center and in 1999 was promoted to Correctional Sergeant until the prison closed. In 2003, Chatman transferred to Scotland Correctional Institution where she held the following positions: Correctional Sergeant, Correctional Case Manager, Assistant Unit Manager and Training Specialist.
"Because of my love for education, I was hired with the Office of Staff Development and Training (OSDT) in March 2014, where I am still employed."
Chatman joined SEANC in 1995 and began serving immediately as the District 20 secretary. From that point on, Chatman actively supported SEANC serving in various ways. Her District 20 positions include: Benevolence Chairperson, Membership Chairperson, Fundraising Chairperson, Insurance Chairperson and District Chairperson. She also served on the Prison Reform Committee where her vast experience highlighted the problems in the system.
"I always try to ensure District 20 is represented as a district of integrity and is loyal to its members," Chatman said. "SEANC has been a part of my life for the last 25 years so I am going to continue this journey until I can't go anymore."
"Jacque wears so many hats in her district," praised SEANC Member Relations Representative Felicia Powell. "She takes the lead on many district and community events and believes in giving back to her members...her friendly, compassionate demeanor and attention to details are extraordinary."
Chatman is always available for district members who have questions or need assistance.
"As SEANC members, we are here for our state employees and retirees and I stand by that whole-heartedly," she said.
Past President and District 20 member Cliff Brown said, "Jacque stays informed of EMPAC issues and conveys them to all of us during our meetings and through emails. She encourages members to send emails and meet face-to-face with legislators."
Chatman believes a strong, unified SEANC membership is crucial in making sure state employees' and retirees' best interests and value to North Carolina are taken seriously by legislators.
In addition to SEANC, Chatman is devoted to Red Springs Gleaners #382, Order of the Eastern Star and works with her mother and sister at the family's decorating and catering business.
"I have been blessed with three beautiful daughters: Katrina, Robyn and Alexys, and four grandchildren: Amyah, Aaliyah, Brandon, Jr. and Aden. I am also engaged to District 20 member Charles Hedgpeth."