Legislature adjourns! House holds solid in battle for state employee rights
Jun 30, 2017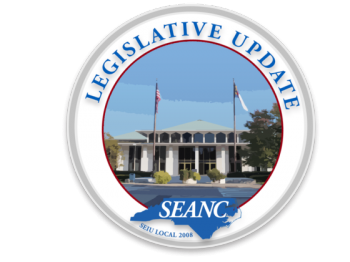 The General Assembly adjourned the 2017 Long Session early Friday morning after passing a flurry of bills in the wee hours. While the frenzy of the budget may have settled this week, SEANC's team of lobbyists were working around the clock to make sure that state employees and retirees were protected from harmful legislation as a last minute push to hear Senate Bill 375 surfaced in the House.
Sponsored by Sen. Ralph Hise, Senate Bill 375 would take away our members' rights to have SEANC dues, insurance premiums, PAC donations and any other payments deducted easily from their paycheck. Throughout the week, the bill was scheduled several times to be heard in the House Rules Committee, but ultimately was pulled from the calendar.
However, we were not out of the woods with Senate Bill 375 just yet. Through a proposed committee substitute, the language from Senate Bill 375 was then inserted into Senate Bill 374. Also sponsored by Senator Ralph Hise, Senate Bill 374 would impose unnecessary regulations on associations like SEANC; the proposed committee substitute effectively combined all of the dangerous and damaging legislation into one bill.
SEANC thanks all of the representatives – Republican and Democratic – who saw that this bill will do unnecessary harm to public services and the people who provide them and stood with us. By the end of the Long Session neither Senate Bill 374 nor 375 was heard in the House Rules Committee. However, this would not have been possible if it were not for key legislators who not only stood with us but stuck their necks out for us within their own caucus.
Please call Reps. Nelson Dollar, John Bell, Jonathan Jordan, Donny Lambeth, Linda Johnson, Chris Malone and Larry Strickland and thank them for going the extra mile against this harmful legislation amidst clear pressure from Senate leadership to have the bill heard. We thank these legislators for their consistent efforts in this fight to ensure that state employees and retirees continue to have their voices heard. Click here to find contact information for each.
Budget veto override, more sessions planned
Although the 2017 Long Session has officially come to an end, the adjournment resolution called for two more special sessions in the next two months. Legislators will return on Aug. 3, where they are scheduled to deal with any bills Governor Roy Cooper may veto and bills remaining in conference between the House and Senate. They are also scheduled to return in September to address legislative redistricting. While the adjournment rules outline specific matters which may be taken up in special session, it is never a guarantee. The best way to ensure your membership, insurances and products are protected is by making the switch to bank draft today.
Earlier in the week, the House and Senate voted to override Gov. Cooper's veto of the state budget. State employees will receive a $1,000 pay raise and three days of bonus leave in the budget. Retirees will see a 1-percent true cost-of-living adjustment. The budget takes effect tomorrow, July 1, and the increases should be reflected in paychecks in late July.
House, Senate honor Sgt. Callahan
Also this week, both the House and Senate passed resolutions honoring the life and memory or Sgt. Meggan Callahan, a correctional officer and SEANC District 63 member who was killed by an inmate at Bertie Correctional Institution in late April. Callahan's family was on hand at both sessions for the vote Tuesday.