Health Care Town Hall a success, more events to come
May 03, 2019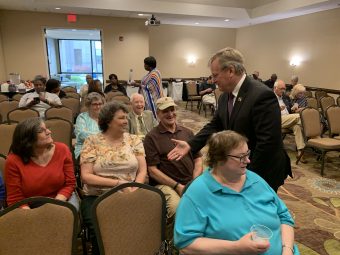 Thursday night's Town Hall event on the Clear Pricing Project in Greenville was a success, even though representatives from the hospitals declined our invitation to attend.

State Treasurer Dale Folwell explained why reform is needed for the State Health Plan and health care costs in general. He said that the State Health Plan has more buying power than Amazon, JP Morgan Chase and Berkshire Hathaway combined, and he planned to use that power to lower plan member costs, especially for dependent care premiums.
"We're trying to make sure state employees can afford the dependent plan without having to work one week out of the month to pay for the premium," Folwell said, to applause. "Young state employees are being forced to choose between a mortgage and health care."
SEANC Executive Director Robert Broome stressed that the Clear Pricing Project fits in with SEANC's mission of protecting and enhancing the rights and benefits of current, retired and future state employees.
Broome also chastised hospitals for the lack of transparency of their billing systems, where patients seldom know what they are paying for.
Government Relations Director Ardis Watkins moderated the event, and read a statement from Vidant Health CEO Mike Waldrum, who stated that he could not attend because he didn't think a town hall forum was a sufficient venue to discuss the plan, even though he has taken part in similar events with business leaders on the same topic.
SEANC plans to hold another Town Hall forum on May 16 in Raleigh on this important matter, and hope to bring one to the western part of the state as well. Details on those events will be forthcoming.
For now, state employees and retirees should continue to reach out to their senators to tell them to oppose House Bill 184, which would stop the Treasurer from doing his job of saving you money.