Crossover deadline passes, pay raise/COLA fight continues
Apr 28, 2017
This was Crossover Week at the General Assembly, a time when legislators push through as many bills as they can before a deadline, after which no bill that hasn't been approved by at least one chamber will be considered.

This usually makes for a wild week, and this year was no different. As you may have read, the bill to stop SEANC members' payroll deduction, Senate Bill 375, moved through the Senate. Sponsored by Sen. Ralph Hise, the bill passed through both the Senate's State and Local Government and Rules committees and then the full body on Wednesday night.
You can watch the entire Rules Committee discussion and vote below. SEANC Government Relations Director Ardis Watkins speaks against the bill at around the 8:11 mark.
Senate leadership was committed enough to passing the bill that it was approved even after a vigorous floor debate. Thank you to Sen. Warren Daniel (R-Burke) and Sen. Shirley Randleman (R-Wilkes) for having the courage to buck the party line to vote with us and stand up for free speech of employees.
Payroll deduction is YOUR RIGHT, not SEANC's right. Taking it away is just another attempt to silence state employees so legislators don't have to answer for the lack of meaningful raises and cost-of-living adjustments for which we have been fighting.
Focus on pay raises, COLAs as Senate budget nears
Now that the craziness of Crossover Week is over, SEANC and the legislature can refocus on what really matters in this session – securing a meaningful pay raise for state employees and a much-needed cost-of-living adjustment for retirees.
As you know, SEANC has worked with Rep. Chris Malone (R-Wake) to put forth House Bill 540, which would give state employees a much-needed $2,400 pay raise this year. We also have worked with Rep. Jonathan Jordan (R-Ashe) to introduce House Bill 497, which would give state retirees a 2-percent cost-of-living adjustment (COLA).
Both bills have bipartisan support, with more than a third of House Republicans signaling they would vote for them.
Malone and SEANC's Ardis Watkins appeared on Spectrum News' Capital Tonight broadcast on Monday to talk about both issues. Click here to watch the full episode. The segment starts around the 15 minute mark of the episode.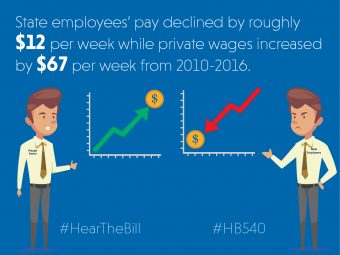 Also this week, the N.C. Justice Center released an article on state employee wages that showed state employees have seen an average decrease of $12 in weekly pay from 2010-2016, while private sector weekly wages have increased by $67 in that time.
We still need members to reach out to their legislators and House leadership to ask them to hear the bills! If you haven't already, please click here to make a call to House leaders to tell them to hear the bill. Click here to email your legislator about the issue as well as HB497, the retiree COLA bill.
The Senate is expected to release its budget in the next few weeks, and then the House will weigh in with its proposal with an expected goal of passage by July 1.
Win $500 by switching to bank draft!
With Senate Bill 375 passing through the Senate, the threat to your right to have dues, insurance premiums and other payments directly deducted from your paycheck is under direct attack. Now is the time for members to switch to bank draft to avoid lapses in insurance coverage and membership.
If you haven't already, please visit https://apo.seanc.org now to switch from payroll deduction to bank draft. The process is simple, and puts you in control of your lives and your voice.
As an added incentive, anyone who has made the switch to bank draft by June 30 will be entered into a contest for $500. If you have already made the switch you are entered. Weekly drawings for smaller prizes will be held as well.
Make the switch now at https://apo.seanc.org!