Cooper signs Executive Order on access, representation of state employees
Mar 24, 2017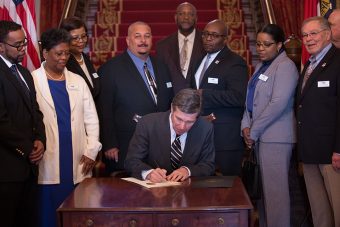 SEANC's Executive Committee gathered at the N.C. Executive Mansion on Thursday to witness Gov. Roy Cooper sign an Executive Order to guarantee access for SEANC to best represent the needs of state employees throughout state government.
The order rescinds Executive Order 84 signed by Gov. Pat McCrory in December 2015 that stripped the rights of SEANC members to meet with officials and department heads on matters of importance in the workplace. It also denied SEANC access to workers at many state facilities and denied delegates the ability to attend the annual SEANC Convention.
Gov. Cooper's Executive Order 5 calls for reasonable access at all facilities for employee associations with at least 5,000 members. Further, it recommends that the UNC System, the community college system, the State Board of Education and the heads of each Council of State agency follow suit.
The order guarantees SEANC annual meetings with the governor and quarterly meetings with the State Human Resources Director and representatives of each executive branch agency. And officers and delegates to SEANC's annual convention will be allowed three days of managerially approved leave.
"This increased cooperation between management and employees can only result in positive outcomes for the state and the taxpayers," said SEANC Executive Director Mitch Leonard. "We look forward to working with the Gov. Cooper's administration to make sure more of the best and brightest choose careers in state service."