BLACK HISTORY MONTH: Shirley Bell blazed trail as SEANC President
Feb 04, 2021
By JONATHAN OWENS

It's hard to imagine anyone more dedicated to the spirit of public service than Shirley Bell.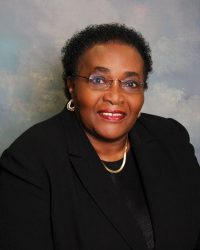 Bell has spent her entire adult life helping others both in a 40-year career at the N.C. Public Health Lab and through volunteer service on many civic and professional boards and associations.

That commitment also made her a trailblazer. She is the first – and currently, the only – African American female ever to be elected president of the State Employees Association of North Carolina (SEANC), having served a term in the role after being elected in 2001.
Bell figured out what she wanted to do with her life while taking a chemistry elective. A 1962 graduate of N.C. A&T State University with a degree in chemistry, she found her "dream job" in the State Public Health Lab, testing environmental samples from all over the state for harmful radiation levels. It was a position that allowed her to marry her love of science with her commitment to helping people.
As radiochemistry lab supervisor, she was afforded the opportunity to travel across the United States in her role as NCPHL Radiochemistry Certification Officer, evaluating other labs receiving samples from the state for radiochemical contaminant testing.
"Working in the lab is what I always wanted to do," she said, "I had opportunities to move up into management, but I stayed in the lab because I was doing what I loved."
Soon after going to work for the state, Bell joined SEANC's predecessor organization NCSEA. She worked near the Legislative Building in Downtown Raleigh but didn't feel she had a voice there until she joined the association.
"We were told not to go anywhere near the legislative building when they were in session," she said.
She became active in the association to help not only herself but her coworkers. In more than 55 years of membership, she has served in virtually every leadership role at both the state and district levels. She currently serves as District 42 Chairwoman.
In her time as president of SEANC, she led an organization far different than the current one. Today there are more African Americans in leadership roles and in the membership as a whole. Still, she doesn't feel racism hindered her ability to lead as president.
"You're always going to hear catty comments," Bell said, "There's always going to be a 'good ol' boy' side of any organization, especially in the South, but I never felt members were outwardly racist toward me."
She attributes her ability to get along with all groups of people to her upbringing in Johnston County, which she said wrongly gets a bad reputation.
"People say Johnston County is Klan country," she said, referring to the Ku Klux Klan's reported history in the area. "But I'm a proud JoCo girl! We didn't really have racial tensions in my neighborhood. We were all mixed together."
"We were one of two families that had TVs when I was growing up. The whole community would come over to watch something at the home of the white family or at our house," she added. "We ate together, and we socialized. I think we don't do that as we should anymore."
Leading with a quiet, reserved demeanor, Bell has garnered the respect of her colleagues in the association and across the many other boards on which she serves. For the past 22 years, Bell has been a member of the State Employees' Credit Union (SECU) Board of Directors, and the SECU Foundation Board of Directors (since its formation), on which she served as chairwoman at one point.
She also serves on the Johnston County Board of Elections, serving as Secretary. She formerly served on the Board of Trustees of the Teachers' and State Employees' Retirement System, The Committee for Recognition of State Employees, Harbor (the safe haven for women and children at risk in Johnston County, and remains active in the local chapter of her sorority – Delta Sigma Theta, Inc., having served two terms as president. She currently serves as secretary at her church, in Clayton.
She is one of the few North Carolinians who has received two "Order of the Longleaf Pine" recognitions – the state's highest civilian honor – for her service at the Public Health Lab and with SECU.
"My steps are slower, but my mind remains active," she said. "I plan to continue being involved in projects as long as I physically and mentally can."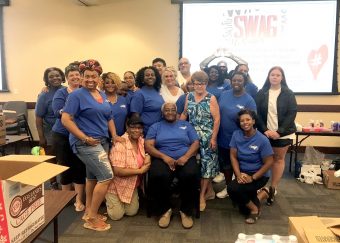 Shirley Bell (seated) with members of her beloved District 42 in Raleigh.