Betty Gautier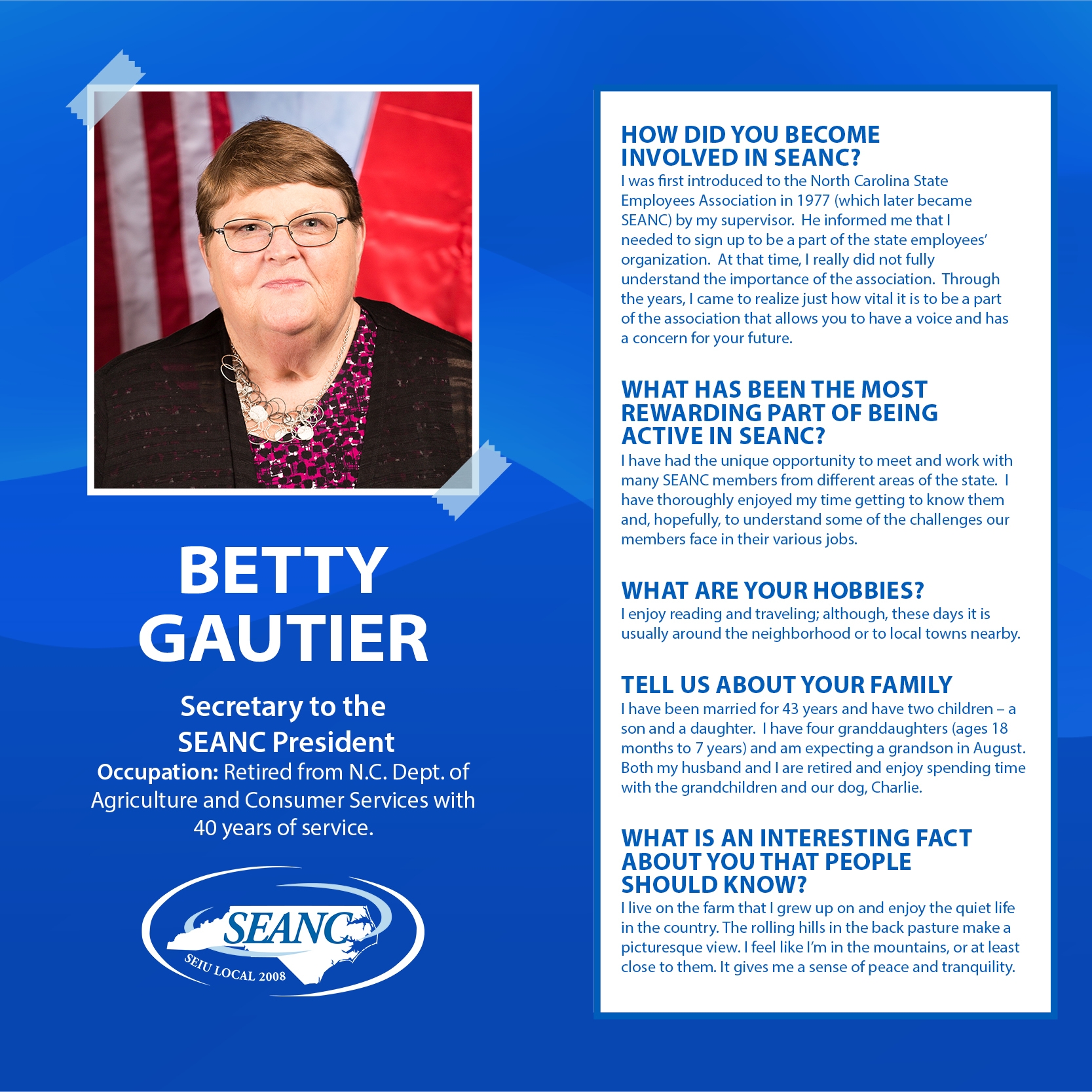 Betty Gautier
Secretary to the SEANC President
District 38 member
Occupation: Retired from N.C. Dept. of Agriculture and Consumer Services with 40 years of service.
Job Title/Responsibilities: Division Administrative Officer responsible for division budget, personnel, and grant management.
How/when did you become involved in SEANC?
I was first introduced to the North Carolina State Employees Association in 1977 (which later became SEANC) by my supervisor. He informed me that I needed to sign up to be a part of the state employees' organization. At that time, I really did not fully understand the importance of the association. Through the years, I came to realize just how vital it is to be a part of the association that allows you to have a voice and has a concern for your future.
How many years have you been a SEANC member?
7 years with the North Carolina State Employees Association; 37 years with SEANC
What offices have you held in SEANC?
I have served as Secretary to the SEANC President. Additionally, I have served as Secretary for the Bylaws Committee, the Audit Committee, the Policy Platform Committee, the Executive Director Search Committee, and the SEIU Study Committee. At the district level, I have served as Vice Chair, Secretary, Treasurer, and have been on the Bylaws Committee, the Membership Committee, and the EMPAC Committee.
What has been the most rewarding part of being active in SEANC?
I have had the unique opportunity to meet and work with many SEANC members from different areas of the state. I have thoroughly enjoyed my time getting to know them and, hopefully, to understand some of the challenges our members face in their various jobs.
What do you wish everyone knew about SEANC?
SEANC is a family and a voice for all state employees and state retirees. Yes, SEANC does fight for our pay raises, but it also fights for our future, our benefits, and our security. SEANC members strengthen our legislative influence and allow us to advocate to improve the livelihoods of North Carolina citizens. SEANC membership is an investment in the future. Whether you serve as a delegate to the convention, serve on district committees, hand out brochures/pamphlets/assist with recruitment, or help with fund raising activities, there are plenty of ways for all members to help SEANC grow.
What are your hobbies?
I enjoy reading and traveling; although, these days it is usually around the neighborhood or to local towns nearby.
Tell us about your family:
I have been married for 43 years and have two children – a son and a daughter. I have four granddaughters (ages 18 months to 7 years) and am expecting a grandson in August. Both my husband and I are retired and enjoy spending time with the grandchildren and our dog, Charlie.
What is an interesting fact about you that people should know?
I live on the farm that I grew up on and enjoy the quiet life in the country. The rolling hills in the back pasture make a picturesque view. I feel like I'm in the mountains, or at least close to them. It gives me a sense of peace and tranquility.