Betsey Lee Hodges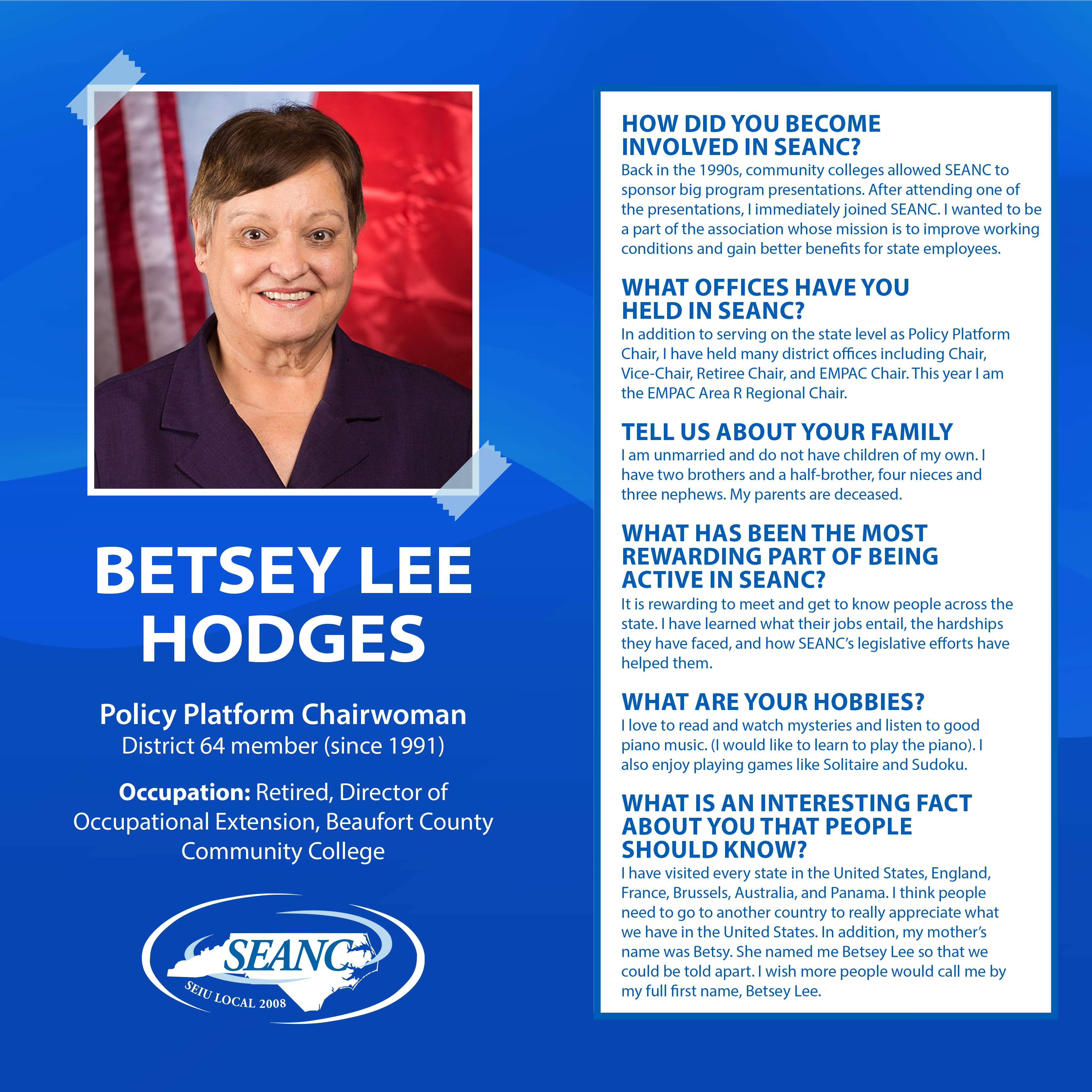 Betsey Lee Hodges
Policy Platform Chairwoman
District 64 member (since 1991)
Occupation: Retired, Director of Occupational Extension, Beaufort County Community College
How did you become involved in SEANC? Back in the 1990s, community colleges allowed SEANC to sponsor big program presentations. After attending one of the presentations, I immediately joined SEANC. I wanted to be a part of the association whose mission is to improve working conditions and gain better benefits for state employees.
What offices have you held in SEANC? In addition to serving on the state level as Policy Platform Chair, I have held many district offices including Chair, Vice-Chair, Retiree Chair, and EMPAC Chair. This year I am the EMPAC Area R Regional Chair.
What has been the most rewarding part of being active in SEANC? It is rewarding to meet and get to know people across the state. I have learned what their jobs entail, the hardships they have faced, and how SEANC's legislative efforts have helped them.
What do you wish everyone knew about SEANC? Over the years, I have enjoyed attending the SEANC Annual Convention. The speakers and learning opportunities are always excellent. There is an energy that we get from attending convention that's reinvigorating.
Tell us about your family: I am unmarried and do not have children of my own. I have two brothers and a half-brother, four nieces and three nephews. My parents are deceased.
What are your hobbies? I love to read and watch mysteries and listen to good piano music. (I would like to learn to play the piano). I also enjoy playing games like Solitaire and Sudoku.
What is an interesting fact about you that people should know? I have visited every state in the United States, England, France, Brussels, Australia, and Panama. I think people need to go to another country to really appreciate what we have in the United States. In addition, my mother's name was Betsy. She named me Betsey Lee so that we could be told apart. I wish more people would call me by my full first name, Betsey Lee.